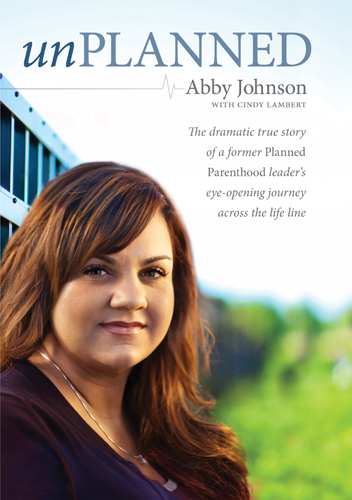 This book is not what you might think. It is not a holier-than-thou rant at the abortion industry, or a right wing field day against abortionists. It is one woman's story, and a woman pivotal to Planned Parenthood at that. It is sensitively told, with great humility and honesty.
Abby Johnson grew up in a Christian home, but, as happens so often with young people, wasn't able to defend her beliefs when she came face to face with a Planned Parenthood recruiter at a college job fair. Within a few minutes her mindset shifted enough to apply to be a volunteer, escorting women to and from their cars at the Bryan, Texas clinic. Gradually embracing Planned Parenthood's official mission to reduce abortions by providing access to birth control, she eventually became so passionate about the organization that she was offered the position of clinic director. And between college and the end of her career with Planned Parenthood, she had two abortions of her own.
But.
But the volunteers with Coalition for Life who stood at the fence line of the clinic day in and day out over those eight years befriended and prayed for her. She came to believe that they truly did care for her. She also saw them care about the women who came to the clinic, much as she did from her side of the fence line. And on the day that, after several key life events, she knew she could no longer be involved in the abortion industry, it was to those friends on the other side of the fence line that she ran...igniting a media fire when Planned Parenthood took legal action against her for doing so. Within hours, she was a national news story.
Unplanned is riveting. I read most of it in one sitting, because Abby's story is so compelling and so thoughtfully told. I believe what sets this book apart from other pro-life books is her insistence on showing readers the genuine, though biblically erroneous, belief of many Planned Parenthood employees that they are helping women in crisis. She points to many employees who are uncomfortable with the organization's priority of abortions to make money, and indeed with the issue of abortion itself. In fact, as of the writing of the book, 116 former Planned Parenthood workers have left the industry through the assistance of the non-profit organization founded by Abby and her husband Doug (And Then There Were None). Abby now speaks around the country about her experiences, a firm advocate for the unborn.
I won't give away the reveal of the final chapter but suffice to say--it's a huge God thing!
You can read more about Abby Johnson
here
, and if you'd like to read the chilling first chapter of
Unplanned
, go
here
(caution: upsetting content, though not gratuitously so).
I received this book for free for purposes of this review from Tyndale Publishers.